My dear blogging friend Paul writes about snowstorms in June for today's weekly guest column. I always said he's one cool Canadian. We dig Paul, right, like a snow shovel cutting through drift.
Leaving the Hospital in a Snow Storm

Welcome to the weekly coffee and tea garden. My name is Paul, I'll be your barista today and I'm happy to be here at Mark Bialczak's Little Bitty in Syracuse, New York. Please come in and go through to the living room. Mark, his wife Karen and their pooch Ellie B, have prepared a nice, cool, comfy place for us so I can tend to your needs for a cuppa, and sweets. The weather this morning is rainy with a high just over 75 F. As usual, I'd be pleased to bring a pot of whatever beverage you prefer – we have a wide range of teas and coffees to satisfy our worldwide readership and adult beverages for those who wish something stronger. We can relax with a cuppa in the air conditioning while we discuss the affairs of the week both personal and/or worldwide. Ellie likes to be patted, so please indulge her when she greets you. How has your week been? Have a piece of cake (or any of the sweets on the next table) – electronic sweets are all calorie-free!
Yum! Yum!

Today I would like to introduce you to an old friend of mine – David. From a big fishing family in PEI (Prince Edward Island) David turned to trucking after he had earned his First Officer's ticket that allowed him to captain even the largest freighter anywhere in the world except in port. He got tired of fishing with the family on their lobster/crab boat and set out to see the continent on the road. At about 170 pounds and 5-foot-7, David was scrawny but possessed of an energy that was bursting from him constantly. His wire-rimmed spectacles framed blue eyes that seldom stopped moving. Not only was he quick, but he was smart. He had been top of his class getting his First Officer's ticket, and he breezed through any testing that he encountered in life. He could see possibilities where others saw obstacles – sometimes to his detriment. He had a few monsters that he battled, and when I knew him, he had his life under control. According to David's own stories, confirmed by those who had known him when he was younger, that was not always the case. But that was years before, and now he was quirky with a mischievous grin and an infectious laugh. One of his favorite platitudes was that when one was running full tilt and hit a brick wall one should get back up, brush off the dirt, put on Band-Aids to stop the bleeding and carry on in a different direction. David always added to this by saying that what bothered him most was when he realized that he was attached to the brick wall with a bungee cord.
Crab Fishing Not for the Weak of Heart

David and I had met when he applied for a driving job at a large retailer where I was the assistant transportation manager in central Canada. I liked his attitude and intelligence, and I hired him. That began a decades-long relationship in which he worked for me or I worked for him and we looked out for each other as friends. David had left that retailer when he had a disagreement with the upper management – he was not always the easiest employee. It was apparent that they were not going to change so he left and found a job with a tanker company hauling gas.
A few years later I had earned a Master's degree, had been laid off because I was over-educated and then had been diagnosed with cancer. After three operations, chemotherapy and radiation treatment, I was finally coming to the end of the tunnel and getting ready to leave the hospital, a hundred pounds lighter and with a clean bill of health. It was January and bitterly cold – an uncommon cold snap that had lasted weeks with temperatures below -30 C – when David came to visit me in the hospital.
He leaned forward in his chair, fidgeting nervously as his eyes locked on mine:
"So when are you getting out?"
"They tell me this week, as soon as they are satisfied."
I knew David had a deep fear of hospitals and I was grateful that he had set that aside long enough to visit me. I also knew he wouldn't stay long, but that was OK. I appreciated the company no matter how long or short. I had learned while sick that one of the important parts of life were friends and family – they remained when all else abandoned you.
He grunted then continued: "Whatcha gonna do for a job when you get out?"
"I don't know; no possibilities yet."
"If you want a job, I can get you one."
"Sure, doing what?" And so those three little innocuous words spoken from a hospital bed set me off down the road of another career.
"Driving a tanker."
"Sounds good."
"OK, call me when you are ready to leave here and we'll talk. See you then." At this David got up and hustled out the door and out of the building.
Getting Home to Get Ready

Three days later I had my walking papers and had called David to get a ride to my boarding house. It was bitterly cold with blowing snow and it was already dark by 4:30 p.m. I climbed into David's salt-covered car and soaked up the heat.
"So, are you ready to go to work?"
"Sure, when do I interview?"
"There is no interview; you're doing a run tonight with me."
"That's fine, let me get some warmer clothes on before we go. Are you going to let me drive any?"
David grinned; "Oh yeah, you will be taking another truck, you won't be riding with me."
"Jesus, David, I haven't driven tractor-trailer for years and I've never driven a tanker and never a B-train. And this a serious snowstorm. Are you crazy? Besides, who authorized this?"
"I authorized it."
"Can you do that?"
"I'm doing it, aren't I? There is a serious shortage of diesel in Ottawa and there isn't space in the pipeline for three weeks. We're hauling as many full loads of diesel as we possibly can from the Montreal refinery to the Ottawa terminal [about 150 miles]. Brian (terminal manager) told me when I mentioned you to give you a truck and travel with you and we can do the paperwork in the morning."
Would you like another cuppa? Perhaps a sweet? I knew it was legally possible under extenuating circumstances for insurance, workers comp, pay, etc., to be retroactive provided the manager authorized it because I'd had that discussion with government officials in the past (needed a driver to transport a truck when the original driver had been hospitalized because of a heart attack). But in a snowstorm with no experience on the equipment type? And the same day as leaving the hospital? But I needed a job and apparently I had one, as long as I had the guts to do it. Steeling my resolve, I jumped in with both feet.
David dropped me at home where my car was, and I got dressed in as many warm clothes as I could find. With my 100-pound weight loss, all of it hung off my skinny body like a scarecrow. My belt was cinched so tight that loops of pants stuck out all around my waist. I had to put on an extra pair of work socks since I even lost a size and a half in shoe size. Throwing a few sandwiches in my bag and grabbing my tool box, I jumped in the car and headed for the terminal. David was there, and he had started both trucks – letting them warm up. I was confounded by the huge size of these double trailers with the big highway tractor attached. It felt as if the tanker was staring me down and I was losing – very intimidating. David showed me how to do a pre-trip on a tanker, what to check and how to make sure the compartments were completely empty. The bitter cold with howling wind and drifting snow didn't make the job any easier. We sat in his truck, and he helped me do all the paperwork for the trip: log books, pre-trip, time sheet, etc. When we were ready I went back to my own truck, and we started out.
Autoroute 40 near Montreal

At first I was delighted by how well the truck handled, but once we hit the highway, the wind slapped the side of the trailers pushing them sideways behind me, constantly trying to jack-knife the rig. The snow had piled up on the roadway and we were just following ruts, but thankfully very little traffic. David began to pull away from me, and he hollered on the CB for me to hurry up. I refused and said I was just going as fast as I felt safe and pushed in a Nick Guilder CD = https://www.youtube.com/watch?v=nEYwmfd65C8 . He slowed down. We pushed through the storm taking twice as long to get to Montreal as would be normal. Still the trailers were getting blown sideways and the steering kept jumping in and out of the ruts with a jerking motion causing my arm muscles to ache.
On arrival in Montreal, David checked me through security and used his loading card to fill my trailers as well as his. About 90 minutes later, with 100,000 pounds of diesel fuel aboard each truck, we headed back to Ottawa. Although the visibility was getting worse because of high winds, the loaded truck drove like a dream. There was no blowing around or jumping – the huge weight (140,000 pounds – as much as two small bungalows) kept the truck straight and easily drove over and through any snow or ice. We stopped once for coffee on the way back and started discussing philosophy. David told me that arguing with me was like wrestling with a pig in the slop: after a while you started to realize that the pig was enjoying itself. We carried on and unloaded in Ottawa – David doing most of the work as he instructed me.
B-Train Tanker in the Yard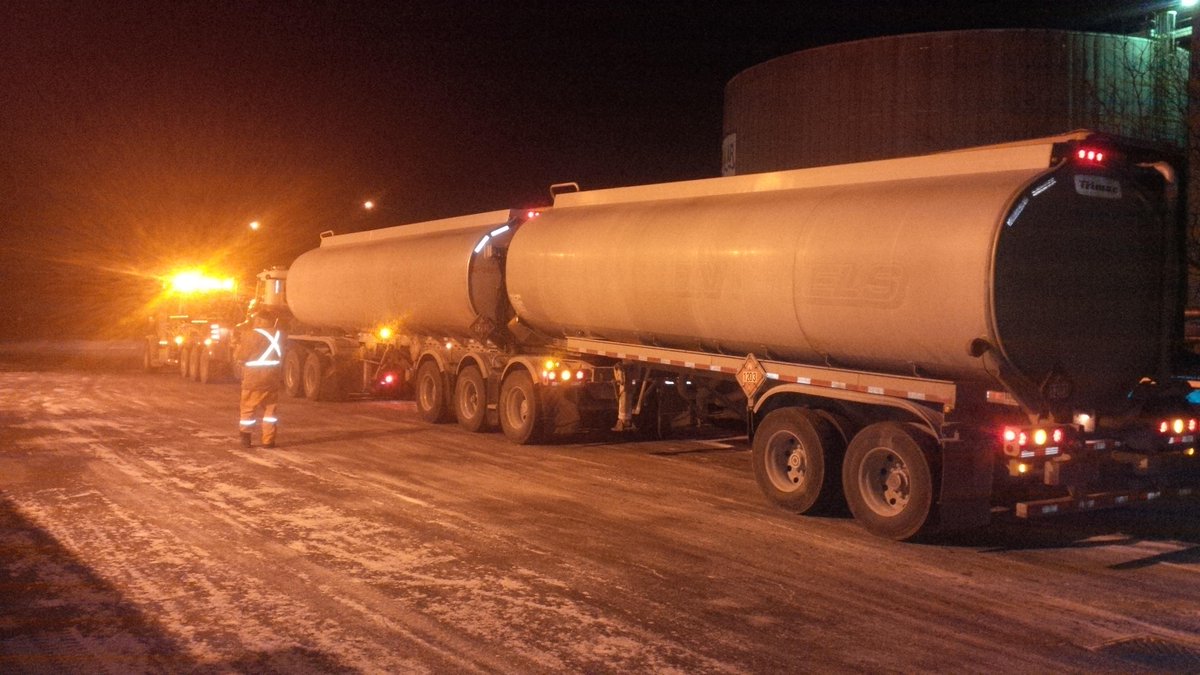 Finally we returned to the yard just as the sun was coming up, and we post-tripped the trucks and finished our paperwork. The office was open and the morning dispatcher was already in. We turned in our paperwork, and David sat me down with a new employee package and got me started on an application. Hard to believe that I had been out of the hospital not much more than 12 hours and I had already done a trip to Montreal and was now applying for a job.
That's about all we have room for this week folks, so it's time to settle in with another cuppa and pat Ellie B. Sweets anyone? Please join me in thanking Mark, Karen and Ellie B for their invitation to tea. We are all honored that you dropped by today to visit. I hope you've enjoyed yourself and the conversation and please look around at Mark's other posts while you're here. Have a great week.
Pensive Bear with Sunday Morning Coffee